Winslow Wentworth House & Morgan-Allen House
When choosing where you want to live, you might look for a place that feels private but also allows you to socialize with people nearby. If you're an elder or a person with a disability, you may also be looking for a place that offers additional supportive services.
Congregate Housing offers a shared living environment that combines housing, in-home services, and a mutually supportive social environment for elders age 60 and older and younger folks with disabilities. Residents are able to live independently with available supportive services arranged by an on-site housing coordinator. LifePath administers the Winslow Wentworth House, in conjunction with the Franklin County Regional Housing and Redevelopment Authority, in Turners Falls and the Morgan Allen House, with the Greenfield Housing Authority, in Greenfield.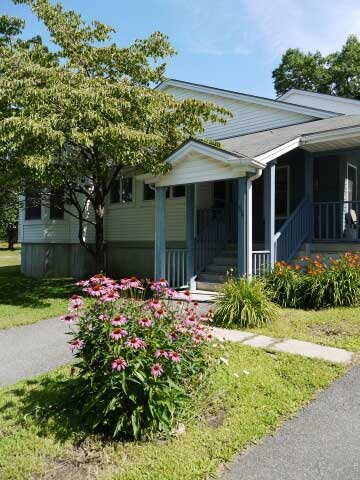 Craig lives at Winslow-Wentworth, where he says he has a sense of belonging. "I've made a lot of friends. All the people are very friendly here. Lot of us get together in the kitchen area, have coffee, talk about things and do different projects." Craig enjoys making art and playing cards.
The Morgan-Allen House, a Victorian originally built in 1816, is located at 491 Main Street in Greenfield within walking distance of the library, the post office, shops, and the YMCA. Each person who lives at Morgan-Allen has a private room, with a combined bedroom/sitting room, kitchenette, and a half bath with sink and toilet. The kitchen, dining room, living room, laundry, and three shower areas are shared. A daily meal is served in the dining room.
Similarly, the Winslow-Wentworth House at 60 J Street in Turners Falls is within walking distance of stores, the post office, and the library, as well as banks and a park. The 17 private units feature a bedroom and kitchenette; half-baths are shared with one other resident. As in the Morgan-Allen House, all other rooms are communal.
For a tour of either residence or to request more information, contact us.