On June 23, eight people celebrated their graduation from the SHINE (Serving the Health Insurance Needs of Everyone) program at LifePath's office in Greenfield. As newly-certified SHINE counselors, they will work in their own communities to provide free and unbiased health insurance information, education, and assistance services to Medicare beneficiaries and adults with disabilities. Lorraine York-Edberg, SHINE Regional Program Director, conducted the intensive 60-hour training.
SHINE graduate Martha Jamison, who will be volunteering in Amherst, recalled calling Lorraine herself two years ago to find out about her Medicare options as she knew she was ready to retire. Martha explained, "When you sign up for Medicare yourself, you realize how complicated it is."
It's clear that people have a lot of questions about insurance and I want to be able to accurately answer them.
Priscilla Phelps said a SHINE counselor pointed her in the right direction when she knew she was going to have hip surgery. At the time, the SHINE counselor asked her if she would be interested in getting involved. She will now be a SHINE counselor herself, volunteering at LifePath's office in Greenfield.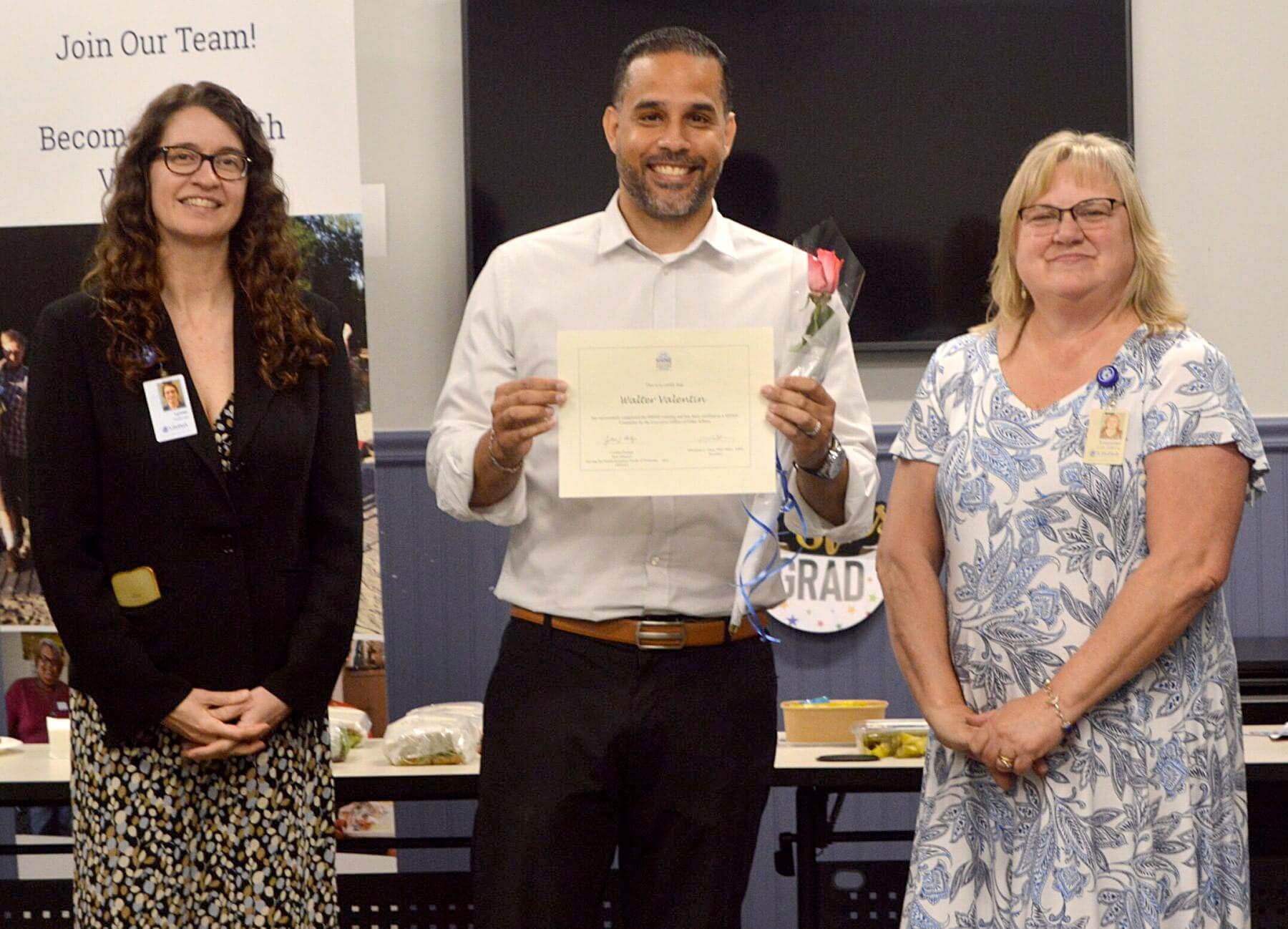 Other 2023 graduates decided to become SHINE counselors because it helped them serve their community members better in their professional roles. Walter Valentin's manager at Baystate Noble Hospital in Westfield suggested he become a SHINE counselor, and Walter, knowing there was a need for it, wanted to help.
Teddy Doucette, Outreach Coordinator for the Shelburne, Ashfield, and Buckland area, who will be working out of the Senior Center in Shelburne Falls, said he wants to "make it as easy as possible for everybody in the region to travel as little as possible to obtain the resources they need," while graduate Kate DiSanto's goal is "to become a resource to Southampton and surrounding communities," in her role as the Outreach Worker/Volunteer Coordinator at the Southampton Senior Center.
Chad Hunter, Health Access Supervisor at the Hilltown Community Health Center, wanted to "provide another resource to our clients to help out the communities we serve."
Meg Ryan, FRCOG (Franklin Regional Council of Governments) Public Health RN for the Cooperative Public Health Service that includes 15 towns, said, "One of my roles is to help provide vaccinations. It's clear that people have a lot of questions about insurance and I want to be able to accurately answer them."
Lorraine York-Edberg expressed her appreciation for the new graduates, saying, "I am excited to have this incredible class of SHINE counselors join our group! They bring a vast amount of knowledge in many areas and will be a great asset to the growth of our SHINE Program at LifePath."
If you have questions about Medicare options, you can consult with SHINE counselors over the phone or in person at some senior centers and other locations. To reach a trained and certified counselor in your area, contact the Regional Office at 1-800-498-4232 or 413-773-5555 or contact your local Council on Aging. If you're interested in becoming a SHINE counselor, contact Lorraine York-Edberg, Western Massachusetts Regional Director of the SHINE Program, via email at lyork-edberg@lifepathma.org or call 413-773-5555 x2275 or 978-544-2259 x2275.