Elizabeth Witham, 67 and a resident of Greenfield, shares a special bond with her horse, Sadie.  She was able to improve both of their lives, in part through help from LifePath's SHINE program (Serving the Health Insurance Needs of Everyone).  Elizabeth agreed to speak to The Good Life about her and Sadie's relationship, and how SHINE helped her to afford Sadie's care.
How did you hear about the SHINE program?
When the monthly cost for Medicare went up from $145 to $170, I knew I couldn't afford it as I was already struggling to pay the $145. I didn't want to pay a penalty for not having health insurance. I contacted LifePath's SHINE program because they had helped me when I first signed up for Medicare in 2020. That's how I met Lorraine York-Edberg, SHINE Regional Program Director.
How was the SHINE program able to help?
Lorraine introduced me to the Senior Buy-In program, which has helped cover my monthly health insurance costs. (Editor's note: The Senior Buy-In program assists beneficiaries with their Medicare Part B monthly premium payment and offers assistance with a free Medicare Part D drug plan that offers reduced copays for medications, and pays your Part A and B deductibles and copays for Medicare services. For more information, call 1-800-498-4232 or 413-773-5555 to make a SHINE appointment.)  
Tell me a little about your work background.
I [worked as] Resident Director of Temenos Retreat Center in Shutesbury, MA from 2013 to 2020. I also worked on weekends at MN Spear Memorial Library in Shutesbury from 2016 to 2020. When I moved to Greenfield in 2018, I drove for Van Pool Transportation until 2020. All these jobs were suspended in 2020 due to the pandemic. I was hired by The Home Depot in Greenfield in April 2020 and am still there, now full-time. I just accepted an additional part-time position at Circle K convenience store in Greenfield. I find it necessary to work 50-60 hours a week to afford living in Greenfield and keeping Sadie in Plainfield. I'm tired! I wish I didn't have to work so much!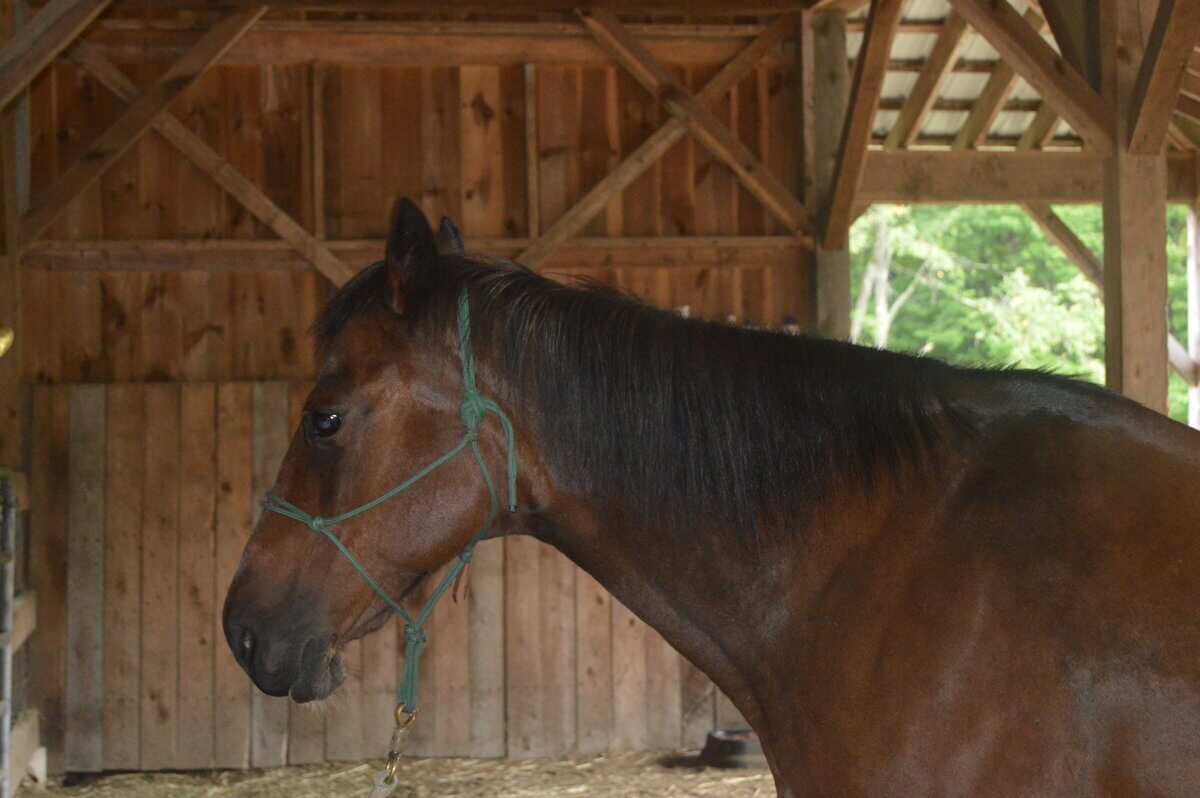 Tell me about Sadie.
I always wanted a horse as a youth. My parents preferred that I pursue sciences and math in high school. In college I began to follow my own interests. I adopted my first horse, Robin Peppy Pride, in 1998. I knew nothing about horses or riding, but quickly discovered natural horsemanship and began attending clinics with Robin. She died in December 2017, at 36.5 years of age. We were together half of her life. I thought I was all done with that chapter of my life. Then friends invited me to go trail riding with them at Riding in the Clouds in Moultonborough, NH. That's where I met Sadie and decided to adopt her. 
Unlike my horse Robin, who was highly educated before we met, Sadie was not very well educated and had difficulty trusting humans, most likely because of mistreatment early on. I was very fortunate to find RJ Sadowski, a local natural horseman who owns Peace Haven Farm in Plainfield, where Sadie and I study "Natural HorseMindShip" together. He agreed to help me with Sadie. This was expensive, but necessary to help her and help me with her. That was in 2019. Today Sadie is happy, healthy, and living in a small herd at Beth Marie Gardner's Lady Luck Farm, also in Plainfield. We continue to study regularly with RJ. We've come so far, such that Sadie and I can go out alone on the trails surrounding the property. This is our favorite thing to do, just wander the trails uphill, downhill, and through forest and fields, coming across deer, birds, and other wildlife. Bliss!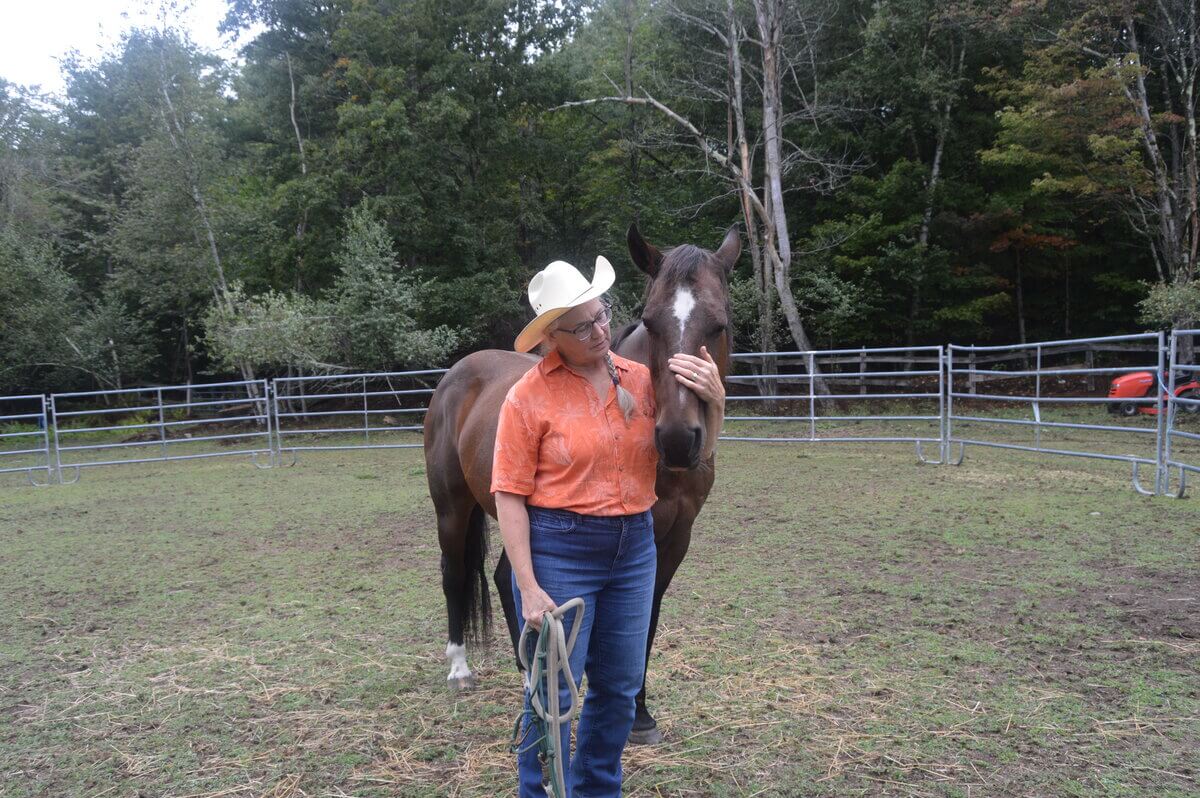 What would you like to share that I haven't asked you?
After moving to western Massachusetts I came to rely on food and clothing resources from the Amherst Survival Center while living in Shutesbury. Now I rely on Stone Soup Café for weekly meals, and the Center for Self Reliance for weekly and monthly groceries. Both are located in Greenfield. I've also received fuel assistance from Community Action—my apartment has electric baseboard for heat, and not much insulation. My landlord and I received rent assistance from RAFT for several months this year. I live in fear the landlord will raise my monthly rent. Even if I didn't have the expenses from caring for my horse I would still be struggling to get by. I fear as I work and earn more to meet living expenses I will no longer qualify for much-needed assistance.
I have two house cats who are my "home boys" providing emotional support, as I am single and live alone. I have three close friends and I'm close with my sister who lives in NH. I struggle with mild depression, and regret for past mistakes, especially those that impacted me financially. Sadie, Clarence, and Lawrence keep me engaged in the natural world and life.
What would you tell someone who is considering calling SHINE?
Ask to speak with Lorraine. Set up an in-person meeting. Bring all of your health insurance cards, paperwork, etc., with you. Ask lots of questions. 
The SHINE program, Serving the Health Insurance Needs of Everyone, provides free, confidential, and unbiased health insurance counseling for Medicare beneficiaries. To reach a trained and certified counselor in your area, contact the regional office at 1-800-498-4232 or 413-773-5555, or contact your local council on aging.