Above: Michael Gilbert, center, taken a few years ago at the kitchen. He's pictured with Ann DeJackome, left, and Betty Mattern, right.
"Mike did Meals on Wheels and loved every single one of his clients. He was very involved in their health and well-being and loved them a lot. He liked everyone he worked with," says Annmarie Newton, remembering her son.
Michael "Mike" Gilbert started as a volunteer Meals on Wheels (MOW) driver in December of 2008 and in March 2012 became a LifePath employee, prepping meals in the Erving kitchen. He left that role in September of 2018 but continued as a MOW driver and was driving five days per week at the time of his passing. Mike was driving his regular MOW route on December 30, 2020, when he experienced a cardiac event. He passed away the next day.
He truly loved bringing a moment of sunshine to his clients, who also quickly became his friends.
Annmarie, 85 and a resident of Erving, inspired her son to volunteer and work for LifePath, having done it herself off and on for at least 40 years. She ran the Meals on Wheels kitchen for LifePath when it was located in Greenfield, and was a volunteer Long-Term Care Ombudsman for LifePath, advocating for elders residing in long-term care facilities. In addition, her brother Edward "Pete" Kavanaugh worked for Meals on Wheels for many years. "They practically had to throw him out," remembers Annmarie.
Annmarie's husband and Mike's stepdad Frank "Bill" Newton is still a Meals on Wheels driver at 91. "Michael loved Bill and thought of him as his father. They worked together for quite a while at Meals on Wheels," says Annmarie.
"I loved every moment of the time I worked at LifePath and so did Michael. He loved Charlie [Cornish, Home Delivered Meals Kitchen Manager] and loved joking with him," Annmarie recalls.
Charlie says, "I was lucky to have worked and gotten to know Mike as a caring person and as a friend with many similar interests that we jokingly commiserated about every day. Mike was the go-to guy when a route needed to be covered. He knew well over half the routes and all the clients by first names. He truly loved bringing a moment of sunshine to his clients, who also quickly became his friends."
According to Jane Severance, Nutrition Program Director at LifePath, "He was a gentle soul who was always willing to do whatever was needed."
Mike was a fan of the New York Giants and enjoyed golfing with his family and volunteering at the North Leverett Baptist Church in their food pantry. He also worked in the Fish Department at Stop & Shop where he would show lobsters to kids who would ask him their names. "He liked people, period," says Annmarie.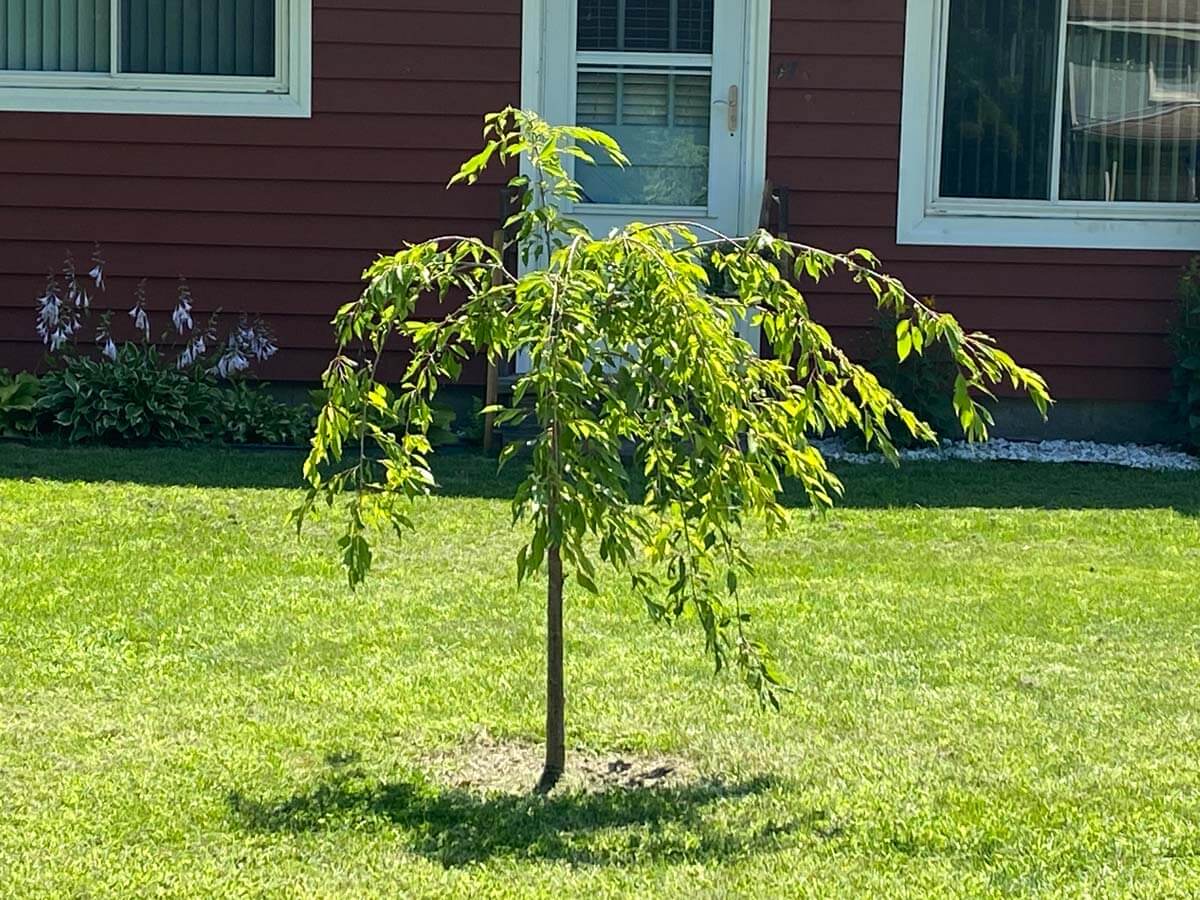 In honor of Mike, LifePath purchased a weeping cherry tree as a memorial that Annmarie has planted on her front lawn. "I can look at it and remember Michael. I miss him so much. He was my best friend as well as my son," says Annmarie.
LifePath also purchased a gift card for Annmarie. "They are a loving, caring organization and if I could walk better I'd be working there. They've been wonderful since he passed," says Annmarie.
Meals on Wheels drivers are urgently needed to deliver meals in Colrain, Athol, Petersham, Greenfield, Orange, Sunderland, Leverett, New Salem, Turners Falls, and Gill. If you would like to help as Michael did, please contact LifePath at 413-773-5555 or 978-544-2259 and ask for the Nutrition Department.